2/3/2018
At Efectis, we attach great importance to fire safety in workplace environments and industrial facilities.
In this respect, we continue to meet with NGOs and public authorities to raise consciousness as their service provider. The latest of these efforts was an event held in January 2018, when we hosted the executives and members of Balikesir Health and Safety Association and civil defence officers of Balikesir Directorate of National Education.
Our visitors, who were particularly interested in fire resistance tests and fire safety in a variety of structures, also had the opportunity to ask questions.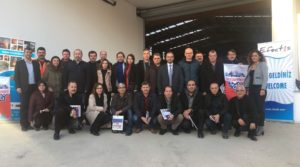 For more information: Ulker Verenel – ulker.verenel@efectis.com