4/6/2018
In April and May, Efectis attended events in Istanbul and Kocaeli, some of them for the first time. Our main goal was to draw the attention of students at university engineering departments to our work.
in April, Efectis attended KOİF-Kocaeli Employment Fair, arranged mainly by Kocaeli University for engineering students who were looking for a summer internship or a job for after graduation.
At the beginning of May, Efectis attended the Carrier Summit at Marmara University: İlker İbik, chairman of Efectis Era Avrasya gave a presentation and answered questions.
Efectis was present at the Building Physics and Environmental Control Conference, organized by Building Physics Association Istanbul Technical University. At one of the sessions, İlker İbik gave a presentation on fire safety engineering in high buildings.
Our sales and marketing team also visited the Türkiye build fair in Istanbul, attended by many of our existing customers and potential customers.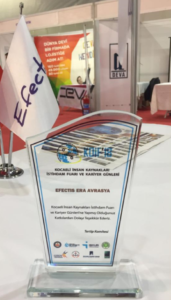 Contact: Ulker Verenel – [ulker.verenel@efectis.com]