19/11/2015
[vc_row][vc_column][vc_column_text]
On behalf of Nestaan and Hinrich International, Efectis has performed fire tests to determine the insulation capacity of a sprayed tunnel lining to be applied on the Central — Wan Chai Bypass (CWB) tunnel in Hong Kong, China.
Because spalling of concrete is highly unpredictable, tests must be carried out on concrete samples with identical mixtures. For the purposes of this project the decision was taken to replicate the concrete mixture used in Hong Kong by using components available in the Netherlands, with the obvious advantage of avoiding high transportation costs.
In this process it became apparent that there is a significant difference between the definition of the water cement factor in China and in the European Union.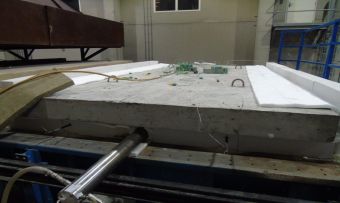 The concrete soffits were sprayed by the sponsors with SLV mortar at the premises of Efectis. The tests could be performed once the mortar had matured. During a test that lasted three hours the specimens were exposed to a maximum temperature of 1350°C in accordance with the RWS fire curve of the Dutch Directorate for Public Works and Water Management. The interface temperature after two hours heating was required to be below 380°C. During the whole heating period no spalling of the concrete was allowed.
The tests were witnessed by representatives of Nestaan and Hinrich International as well as by representatives of Leighton (main contractor) and Aecom (consultant).
Efectis has put itself in the spotlight by showcasing our capabilities to the Hong Kong tunnel community, which is important for upcoming large-scale projects such as the Tuen Mun — Chek Lap Kok Link tunnel.
Contact: Paul Kortekaas – paul.kortekaas@efectis.com[/vc_column_text][/vc_column][/vc_row]