16/2/2015
[vc_row][vc_column][vc_column_text]
Efectis, in partnership with IFOPSE and ENVEHO, has recently assisted a French industrial company in assessing the efficiency and adequacy of the Personal Protective Clothing of a private rescue service in real fire situations.
The assessment is based on a test dummy fitted with 122 thermal sensors enabling the measurement of thermal protection time according to the level of pain and degree of burns.
The efficiency of the equipment is determined according to the thermal protection capacity in real fire situations:
Enclosure fires
Flash-over situation
Heat radiation sources
Industrial fires (e.g. jet fire or pool fire)
This study was conducted as follows:
Step 1: Functional analysis of the utilisation of the Personal Protective Clothing
Step 2: Definition of the fire scenarios which serve as a reference
Step 3: Definition of the testing protocol corresponding to the reference scenarios
Step 4: Fire testing (small-scale, full-scale on dummy and human trials)
Step 5: Identification of critical points and weak areas
Step 6: Improvement proposal for the protection and thermal comfort level
Step 7: Technical assistance for R&D (ergonomics, design, prototyping).
For more information, please contact Jerome.visse@efectis.com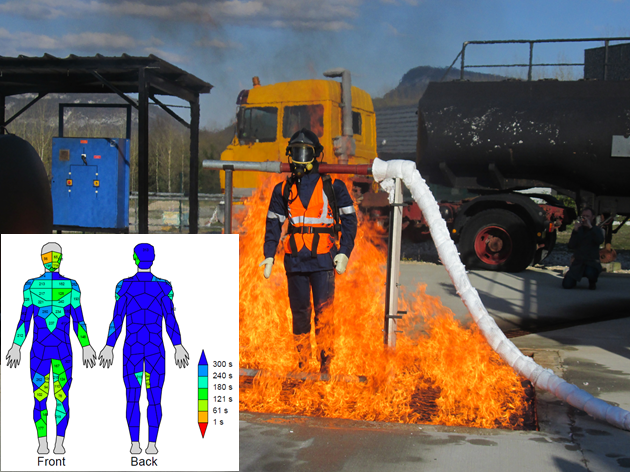 [/vc_column_text][/vc_column][/vc_row]