Conception, design & modeling (Prescriptive design and performance-based design)
The fire safety of a building is determined by four aspects namely, the measures taken in the architectural and the installation provisions, by the function the building serves, and by the way the evacuation of building users is handled. When one aspect has a poor score it will have consequences for the overall fire safety.
Assessment of performance-based design
In the national regulations, for each fire safety aspect, requirements are established for both existing and new structures. Distinction is made between:
Functional requirements, by which the objective of the regulation is determined,
Performance requirements, by which definition is given to the functional requirement; if you meet these performance requirements then you will satisfy the functional requirements.Efectis can help during the design, implementation, and in the service phase of the structure. Listed below are some possible services that Efectis can perform.
It is also possible to meet the functional requirements with another set of safety measures and to obtain a sufficiently fireproof building. The equivalence of these measures should be proven in that case. This risk-based assessment is referred to as "Proof of equivalent fire safety."
Efectis can help during the design, implementation, and in the service phase of the structure. Listed below are some possible services that Efectis can perform.
Design (new buildings):
Assessing compliance with the chosen fire safety measures and meeting the performance requirements of national regulations (= performance assessment).
Determining the fire and smoke resistance, not only in height but also in terms of direction and the criteria that apply. Assessing whether, in a specific construction, the required fire/smoke resistance can be met.
Assessing whether the desired materials can meet the required fire classification.
Service phase (existing buildings):
Global site inspection in order to:

Obtain insight into the fire safety as a whole
Obtain insight into the escape safety for users
Obtain insight into the quality of fire and smoke separations

Detailed site inspection with the additional purpose (compared to global inspection):

Establishing the necessary temporary measures
Determining the required long-term measures

Specific inspections:

Performing insurance reviews
Providing legal advice
Smoke and heat exhaust systems analysis, design and review
Fire Safety Engineering is recognized as a real alternative to the usual descriptive approach, and currently used all over the world in elaborating an overall fire safety strategy in a building.
The engineering approach gives greater flexibility to architects and contractors in designing complex or innovative buildings, and provides an appropriate tool in the refurbishment of buildings to make them comply with regulations, such as historic buildings.
Efectis can perform the following engineering smoke control studies that can be useful in cases of non-compliance with regulations such as:
Smoke extraction less than required,
Smokescreen size smaller than required,
Ceiling higher than required,
Limited fresh air intake,
Several superimposed open levels,
Assessment of active smoke control systems (jet-fan, smoke curtain, air curtain, etc.) Efectis utilizes and follows a performance-based approach in close relationship with rescue services in order to define and validate the reference fire scenarios.
Fire Protection Design
To combat the risk of fire one must understand the extent and nature of the fire hazards present and then design systems to address these risks. The fire scientists and fire protection engineers at Efectis are fire behavior and systems design experts.
Prescriptive Design: The majority of projects are governed by regulatory requirements that mandate the use of active fire detection and suppression systems. Efectis specializes in conventional and unconventional fire protection system design including many international and recognizes standards and codes.
The nature and level of detail of detail provided by Efectis will vary depending upon the needs of the project. Efectis can produce everything from performance specification documents to full shop level submittals. In all cases Efectis led designs clearly identify the scope of the project in detail which ensures more competitive bids and fewer potential change orders.
Performance Based Design: Some facilities like public transit systems, sports arenas, large atriums, and industrial sites often require special analysis to identify and mitigate risks. The fire scientists and fire protection engineers at Efectis draw upon decades of fire modeling and fire testing experience to quantify the risks and use that expertise to develop customized solutions. Some of the performance based design services that Efectis provides includes, but is not limited to:
Fire & smoke behavior modeling
Calculated fire resistance modeling
Fire loss estimation
Smoke management system design
Stairwell pressurization
Atrium exhaust
Timed egress analysis
Egress analysis: design, model and review
The increasing complexity of buildings combined with a demand for higher safety levels, in relation to size and configuration, requires particular attention for egress conditions. Several methods may be used to analyze the escape possibilities of a building such as simple calculation and modeling to solve more complex scenarios. The main parameter in egress analysis is time. On one hand the required safe egress time (RSET) which depends on discovery time for the calamity, reaction time, number of people, walking speed, choice of exit, size and number of doors, staircases and buffer rooms, height of the building, emergency response team etc. On the other hand the available safe egress time (ASET) which depends (in case of fire) on fire load density, flammability of materials, compartmentation, height of the fire compartment, openings in de compartment, emergency response team, fire suppression systems, fire brigade etc.
The main purpose of egress analysis is to provide accurate evaluation, to propose solutions for optimization of a (safe) building design, and to find the critical locations in an existing building.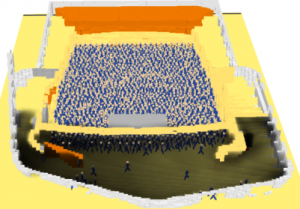 Fire behavior of materials and structures
Building regulations define the ways and methods for the assessment of fire resistance of buildings, structures and materials (fire test standards, Eurocodes …), and usually propose an alternative to the prescriptive approach that is Fire Safety Engineering (FSE). This alternative is based on performance-based approach/design and consists of assessing fire resistance of structures under real/natural fires (as opposed to standard fire curves).
Efectis has the skills and the advanced modeling tools and the experimental facilities for the assessment of the fire performance of construction products and structures.
Efectis has performed such fire resistance studies of structures for more than 40 years, utilizing:
Standard ISO fire curve (prescriptive approach),
Real/natural fire curve with a FSE approach. These studies can be performed to all kind of buildings (public buildings, high rise buildings, nuclear facilities, tunnels, etc.) and all kind of structures (steel, concrete, wood, and mixed).
Different steps of calculations use specific modeling tools such as: fire development tools (simplified model, zone model, CFD model like FDS), Finite Element Model code for heat transfer (DIANA, SAFIR, ANSYS) and Finite Element Model code for fire mechanical calculations (SAFIR, ANSYS, LENAS).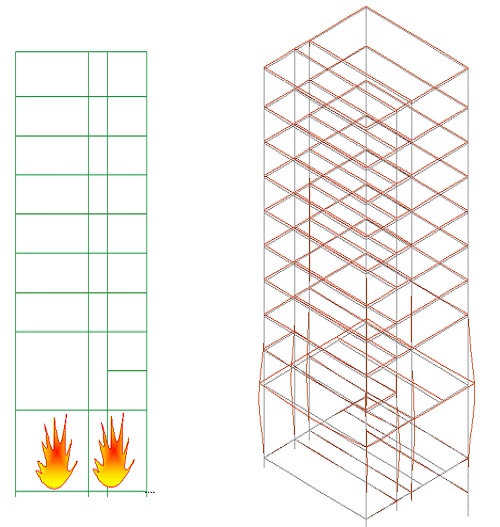 Study on fire resistance of steel structure of a tower