4/6/2018
Last February Efectis Nederland performed a hose stream test according to IMO Resolution MSC.307(88), FTP Code 2010, at the request of our customer InterDam.
This test is an optional requirement and may be requested by some authorities for windows used in specific areas of a ship. The window is subjected to the impact, erosion and cooling effects of a hose stream.
The hose stream was applied to the exposed face of the specimen immediately after the heating period at a distance of 6m from the centre and normal to the exposed face of the specimen.
The water stream was delivered through a standard fire hose and discharged through a 19 mm nozzle. The pressure at the nozzle was 310 kPa with the water flow in progress. The amount of water discharged was approximately 401 l/minute.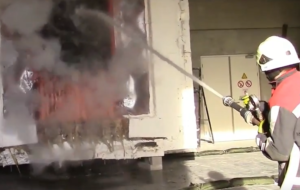 Contact: George Scholten – [george.scholten@efectis.com]