19/8/2021
For many years, major fires have been characterised by generating significant pollution and affecting the environment and populations, sometimes far from the disaster itself.
Recent events such as the fires at Lubrizol in Rouen and at Notre-Dame Cathedral in Paris have reminded us of the importance of taking into account the effects of the fire not only in the damaged structure, but also outside. Wildland fires are another example of disasters of which the remote impact on populations can be considerable, in particular through particle emission.
The environmental impact of fire is mainly through smoke, but also affects water, sediment and soil. Additionally, the actions of firefighters can generate additional sources of pollution or displace the sources of pollution.
Good design (for example the adequacy of water basins, the availability of firefighting water and the compartmentation of storage) and the planning and knowledge of the substances stored and of their effluents make it possible to limit the environmental damage in the event of disaster and to anticipate future regulatory changes.
In recent years, Efectis has anticipated this societal need by developing skills in assessing the environmental impact of fires: combustion chemistry (in particular emissions of dioxins and furans, PAHs, heavy metals, acute toxic gases, etc.), modelling of major fires and natural space fires, and atmospheric dispersion tools within a short range (a few hundred metres) and at a greater distance (dozens of kilometres). In addition, Efectis experts actively participate in the development of the corresponding international and national standards, in particular within the framework of the development of ISO 26367 standards on the environmental impact of fires, and by chairing the ISO committee in charge of this issue.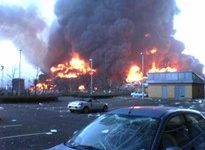 Contact: Eric Guillaume – eric.guillaume@efectis.com