18/1/2021
After the Grenfell tragedy, the risk of fire spread in high-rise buildings, i.e. higher than 18 m, have become a major concern. If the requirements of the Building Regulations along with the recommendations of Approved Document B are not met currently or at the time of construction, a rapid fire spread in a high-rise building – and consequently a tragedy – is likely.
"Since the Grenfell fire, thousands of leaseholders living in buildings with dangerous cladding have been asked to find significant amounts of money to pay for them to be taken down."
The remedial works to meet these requirements are expensive and time-consuming, which is a concern for property owners and management institutions. Having a UK accredited fire laboratory, Efectis provides the most efficient and practical solutions with respect to the above-mentioned concerns.
Several buildings across the UK, e.g. accommodation complexes, were inspected by Efectis in the course of 2020 with respect to a fire safety review of their facade systems. Thanks to our professional engineering team, we provided site inspection to check the facade systems and their substrates, non-exhaustive metric and visual surveys, reviewing the facade systems' fire performance and compliance with current UK regulations and the UK regulations at the time of construction, analysis of samples in Efectis testing facilities – i.e. reaction to fire classification based on the EN 13501 standard – providing potential technical modifications to meet the requirements of current UK regulations and MHCLG guidance, delivery of a survey report outlining the above and, if required, providing an EWS1 form in accordance with the requirements of the Royal Institution of Chartered Surveyors.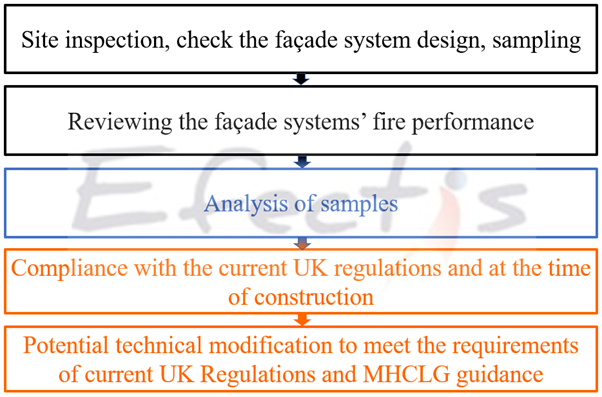 Contact: uk@efectis.com