12/10/2020
Materials, manufactured goods and construction systems are continuously improving and resulting in new technologies, discoveries and market trends. The demand for more housing to meet the global expectations is high.
Currently, the conventional methods of housing design are extremely resource intensive, so sustainable construction is a challenge. The requirements of the UK regulations and the guidelines of the Ministry of Housing, Communities, and Local Government for high-rise buildings are being replaced by a more stringent regime. The challenge is twofold: addressing all possible fire scenarios and covering all kind of buildings. Further studies and thorough risk assessment to consider the entire 'building environment' is a must for such complex buildings.
To this end, high-quality risk assessment studies based on actual tested systems, and not only on engineering judgments or simulations, are delivered by our highly qualified technical team members, as required by UK regulations.
So far Efectis has promoted various comprehensive scientific publications in connection with the Grenfell tower disaster, such as accident investigations, experimental works and numerical simulations. In addition, our team is now involved in several important projects associated with infrastructure and nuclear plants, as well as high-rise buildings and updating the current requirements for their fire safety. These include the Manchester Airport Transformation Programme (https://www.mantp.co.uk/), a Birmingham hospital and Europe's tallest modular building.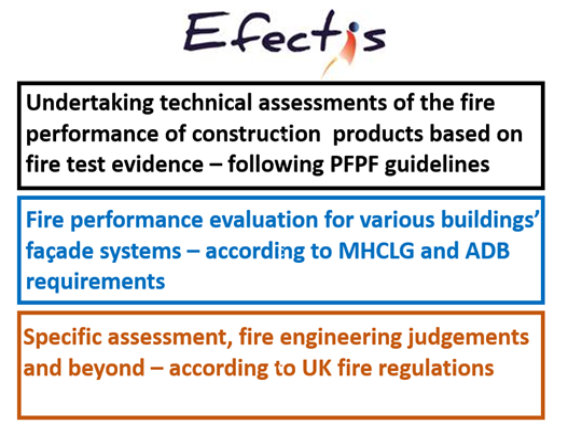 Our highly qualified engineers will listen to your needs, address the issues, provide solutions and deliver high-quality services.
For more information contact: uk@efectis.com