18/10/2018
Following the Grenfell disaster, the fire behaviour of façades has been a topic of great interest and the demand for the fire testing of cladding has soared, as many manufacturers have a requirement to test their system according to BS 8414-1 and 8414-2. The unavailability of the full-scale façade fire test rigs has made it extremely hard to address all the requests with the urgency required.
As a leader in fire testing, Efectis has been working to increase fire testing and certification capabilities in the UK and Ireland. As a result, the first new full-scale façade test rig located in Belfast is now ready to host the UKAS accredited fire testing.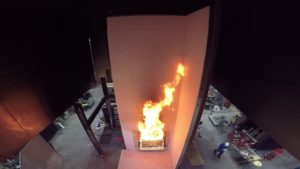 This new facility is unique, as it can offer the measurement of heat release rate and toxicity during the fire test. At the same time, Efectis UK/Ireland is still offering intermediate scale fire testing according to 13785-1. The intermediate scale test allows clients to develop and fine-tune their cladding systems before embarking upon the full-scale test, thereby reducing their overall costs and timescales.
Contact: Talal Fateh – [talal.fateh@efectis.com]