22/11/2022
In 2018, Efectis purchased new testing equipment that enables full-scale hydrocarbon pool fire tests to be performed with all the required safety and confidentiality conditions. The equipment is located at the fire testing and training platform in Saint-Yan, France.
Efectis is now able to perform tests in accordance with standards such as:
STANAG 4240 – Liquid Fuel / External Fire, Munition – test procedures, which have been developed by NATO with the aim of proposing standard testing procedures to assess the possible reaction of ammunitions and weapon systems to typical heat flows from an enveloping flame produced by a fire in a huge hydrocarbon pool. This type of test can, for example, consist of subjecting weapon protection/packaging to a kerosene pool fire.
I.A.E.A (International Atomic Energy Agency) SSR 6: Regulations for the Safe Transport of Radioactive Material.
ADR: Agreement concerning the International Carriage of Dangerous Goods by Road.
In some cases, the two last-named documents require the transport container to be tested for 30 minutes when completely engulfed by the flames of a hydrocarbon pool fire at an ambient temperature of at least 800°C.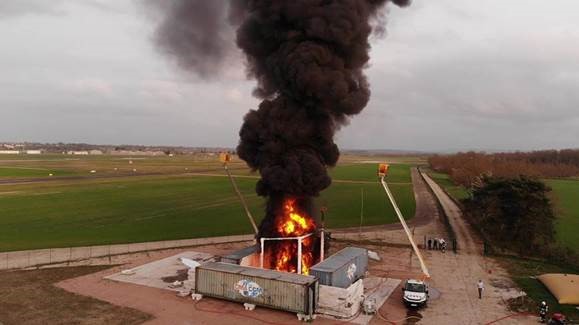 Figure 1 : Pool fire with pool of 6 x 3,6 m (l x w)  and 5 000 liters of diesel fuel designed for 30 min at 800°C according to IAEA standard
And more recently, Efectis offered to perform a fire test on fuel tanks of boats according to ISO 21487 Small craft — Permanently installed petrol and diesel fuel tanks under ISO 17025 accreditation in its lab at Maizières-les-Metz. The test principle is comparable with what is specified in Articles H-24 & H-33 of the American Boat & Yacht Council concerning the fire resistance of boat tanks under the US Code of Federal Regulations 33 CFR § 183.590 fire test.
In addition to the testing services, Efectis can assist in the certification via partners.
For more information, please contact Roman Chiva