22/9/2016
Almost three years ago Efectis developed a three-level course on Compartment Fire Behaviour Training:
– Level 1: Observation and comprehension of the fire system
– Level 2: Fire science for instructors
– Level 3: Advancement and personal safety of the operatives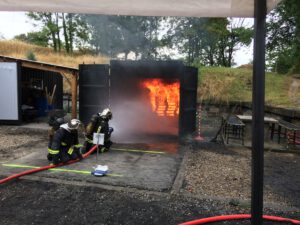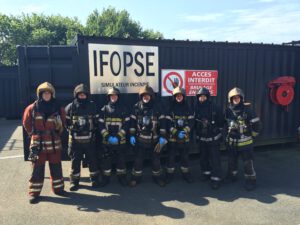 The course draws on the expertise of the International Fire Instructor Workshop network, including instructors in numerous countries who are internationally recognised for their expertise in fighting compartment fires (houses, boats, hangars, planes, etc.).
The course is aimed at operatives and instructors. Levels 1 and 3 take place in a training environment of maritime containers of differing degrees of complexity in which a combustible material is placed, to put students in a controlled but realistic fire situation. The theoretical level 2 takes place in a classroom.
Société Ifopse (training partner) called upon the expertise of Efectis to give its twelve fire trainers a refresher course.
The Swiss Firefighters Federation asked Efectis to help develop a fire instructor course appropriate to Switzerland, to standardise the expertise with regard to fighting building fires.
If you need information on compartment fires, follow us on our CFBT-Fr Facebook page.
Contact: Franck Gaviot-Blanc [franck.gaviotblanc@efectis.com]