18/10/2018
In September 2017, I announced the creation of Efectis UK/Ireland, a joint venture between Efectis and the University of Ulster. After a year of hard work updating the quality system, calibrating and upgrading the equipment from that of a research facility to that of an officially accredited testing laboratory and managing a team authorized to perform standard tests, I am proud to announce that Efectis UK/Ireland is now accredited by UKAS (UK accreditation body) for fire resistance, reaction to fire and façade tests. Efectis will take an active role in the evolution of fire safety rules and standards and remains available for any technical assistance required by the UK and Republic of Ireland governments. Efectis is delivering fire assessment of products, systems and construction based on highly technical and scientific principles.
In addition, since May 2018, Efectis has been operating a new large-scale testing and fire fighters' training platform in Saint Yan (Saone-et-Loire). The platform will allow Efectis to complete its testing facilities and is able to perform specific tests that are often impossible in fire laboratories.
Both developments give Efectis new opportunities to respond to the construction sector's needs.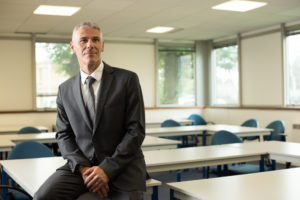 Daniel Joyeux
President Efectis Group