20/4/2021
Efectis France is intervening as part of the government's plan for the renovation of the higher education system's building portfolio.
Campus Saint-Charles, Pharmacy Faculty La Timone: these are two high-rise buildings type R (for education purposes). Every year for the last 50 years, each building has welcomed 1,500 students and researchers. As part of the government's renovation plan, a call for projects was launched in September 2020 for the dynamic renovation of the higher education system's building portfolio. The facades of the two selected buildings will be renovated, the CVC system will be modified and photovoltaic panels will be installed.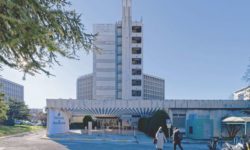 Such major works for high-rise buildings interfere with various fire safety issues, so they cannot be implemented without receiving authorisation from the Safety Commission. In this respect, the University of Aix Marseille has commissioned Efectis France to conduct a regulatory audit of these two buildings.
The objective of this audit is to describe, before the work starts, the buildings' compliance with the regulations as well as their performance in terms of fire resistance and firefighting facilities. These two buildings were built before the implementation of safety regulations dated 24 November 1967 and, more importantly, before the decree dated 30 December 2011. A comprehensive audit report has therefore been requested; this report will help the Safety Commission to assess the building and to prioritise the safety actions planned by the University of Aix Marseille. Diagrams for short-term, medium-term and long-term safety actions will then be created by the project management on the basis of the audit reports.
All the articles of the regulations in force have been included, with an emphasis on the interactions with third-party buildings, on the partitioning of the different types of premises, on access for the emergency services, and on the propagation of fire by the facades.
Efectis has made available several engineers with expert knowledge of structures, facades and fire risk prevention to make on-site assessments in conjunction with the staff responsible for the safety and maintenance of the buildings. As the audits took place in an occupied setting, the non-destructive samplings, as well as several visual controls and documentary reviews realised with the owners, are privileged. The 50-year-old knowledge database (in particular during the construction period) and the diversity of Efectis competences were key to performing full and discreet audits. Digital tools such as connected measurement programs were used, with the objective of allowing measurements to be made quickly and up to 30,000m² per building to be photographed.
This type of audit, including the structural details and equipment, will give all the clients and owners of high-rise buildings a documented, technical, strong and orderly database regarding the fire safety situation of their buildings, as well as the tools they need for better management of their building or their works.
Contact: Gautier Defrenet – gautier.defrenet@efectis.com