19/11/2015
In the autumn of 2015, Efectis conducted a number of large-scale fire suppression tests for a cable tunnel in Singapore.
The tests took place in the test facility at San Pedro de Anes, Spain, which has a 600 m long tunnel. The tunnel was adapted over a certain distance to reproduce as closely as possible the conditions (geometry, ventilation, etc.) of the tunnel in Singapore. Different cross sections upstream and downstream from the fire were instrumented to measure parameters such as gas temperature, velocity, gas species concentrations and rate of heat release. The effects of change of ventilation, type of fire source, fire location, detection system location and water mist system setting were evaluated.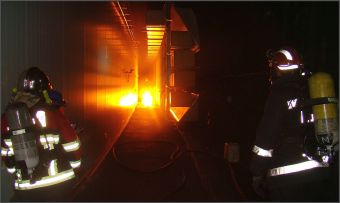 Thanks to excellent cooperation between companies of the Efectis Group (Efectis Nederland – project management, Efectis France – project support, and Efectis OutLabs Ventilation – measuring equipment), Efectis has proved once again that it has the capability to successfully carry out international large-scale testing campaigns, thanks to staff with profound knowledge and expertise and the company's long history of similar large-scale testing.
Contact: Tomas Rakovec – tomas.rakovec@efectis.com