27/6/2017
In the framework of its development in South Africa, Efectis had, for the first time, the opportunity to attend and support the Insurer Fire Impact Reduction Strategy (InFIReS) Seminar 2017 organized in Johannesburg by the Fire Protection Association of Southern Africa (FPASA) on 31 May 2017.
During the third edition of this conference, which welcomed nearly 100 attendees, Dominique Parisse presented an exhaustive update on fire statistics, especially the various recent work carried out in accordance with ISO 92 'Fire Safety'.
This conference provided an opportunity to share information and concerns about this important issue for South Africa, as well as to give relevant details of outdoor fires (known locally as 'veld fires') in the Free State (one of the nine provinces of South Africa) and the efficient strategy for assessing this significant risk.
Additionally, this event included a detailed presentation of the 'Draft White Paper on Fire Services', which mentions the future creation of the National Fire Research and Data Center in which Efectis expects to be an important partner.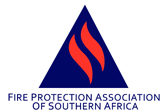 Contact: Dominique Parisse – dominique.parisse@efectis.com