31/5/2016
[vc_row][vc_column][vc_column_text]
The owner of a commercial building has been told that the interior walls of the building must have a demonstrable fire resistance of 120 minutes.This is not easy to achieve, as the walls are made of PUR-filled sandwich panels 80 mm thick and the total length is two km. An innovative solution was chosen: the Fire Defender. This consists of pipes incorporating spray heads 65 cm apart. These pipes can be coupled, allowing a water screen to be created.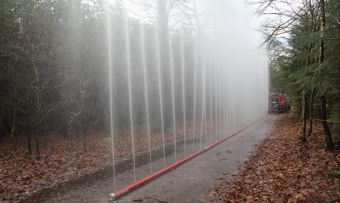 Example of defensive use of Fire Defender in a wildfire
The Fire Defender (worldwide patent pending) can be used in many ways, such as fighting wildfires, direct firefighting and flue gas cooling. Creating a water screen can also be used as protection for adjacent areas and thatched roofs, and can prevent the spread of asbestos.
To assess the effectiveness of this system a fire test was performed on a wall four metres wide and four metres high. In accordance with EN 1364-1 the wall had a 'free edge' on one vertical side of the test frame, to facilitate unobstructed deformation of the wall. The Fire Defender was mounted on top of the wall on the non-fire side, so the water was sprayed directly against the top of the wall at a rate of 4 l/min/m2. Before the test thermosensors were mounted on the surface of the wall and fastening points were fitted so that the deformation of the wall could be measured. A heat radiation meter was also installed.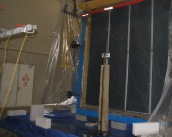 Wall with Fire Defender directly before the fire test
In the fire test the wall was exposed to the standard fire curve. For 90 minutes the wall temperatures remained under 100°C and the wall stayed flame proof. After approx. 105 minutes a small number of hotspots arose, one thermocouple indicating 200°C, but the others indicated under 100°C. Over the entire test the deformation of the wall was less than 100 mm. Even better results can be expected with the Fire Defender on the fire side.
Contact: Peter Reijman – peter.reijman@efectis.com[/vc_column_text][/vc_column][/vc_row]