13/12/2016
The Efectis Nuclear Division was set up three months ago to meet the specific expectations associated with the fire safety in the Nuclear Installations. The Efectis Nuclear division is related to all the concerns of a Nuclear Installation, risk analysis, compartmentation, ventilation, structural behaviour, inspection and testing. Based on CEFRI certification, the Efectis Nuclear Division can inspect your fire resistant product and system for verifying their ability and performance on site.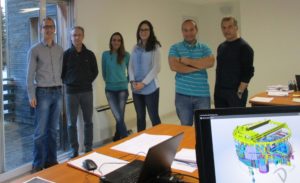 Based in Pierrelatte, the Efectis Nuclear division has got also forces in Saint Aubin, Metz and Lyon, and use the historical experience of the Efectis laboratories.
Let us all wish the new division good luck in getting over its teething troubles and in succeeding in making progress with the other traditional French nuclear operators.
Contact: Arnaud Rabilloud – [arnaud.rabilloud@efectis.com]