25/11/2019
As mentioned before, the determination of the gross heat of combustion (calorific value) is now in operation.
The test method is part of the EN 13501-1 to realise an A2 in combination with the Single Burning Item or Floor Radiant Panel test series or an A1 classification in combination with the non-combustibility test series.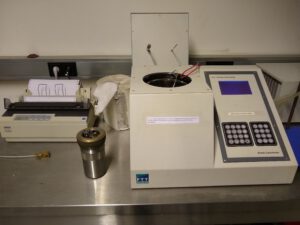 To make the facility operational in Bleiswijk, the fire lab on the first floor has been modified. A location has been created and additional equipment has been ordered. This means a high precision weighting for the determination of the mass (within 0.1 mg), which is an important aspect in achieving the required accuracy. A water system to make demineralized water has been implemented too. For the test an oxygen-filled bomb is needed, which means a bottle of pure oxygen (≥ 99.5 %) and a pressure/reduction valve.
The power consumption of the new equipment has necessitated a modification to the electrical system. Finally, the technical provisions have been completed and the facility is up and running. As could be expected, after the initial attempts several errors had to be solved.
In recent weeks, several hours have been spent performing various checks and calibrations. The 'water equivalence' of the system has been determined and the standard deviation is within the limit of 0.5%.
The facility is working well, soon the real comparison tests between our results and test results from the facility in Les Avenières will be performed.
In the meantime, the documentation, instruction and observation forms will be prepared. We expect to finalise the required documentation file for the accreditation request in the first quarter of next year.
Contact: Arjo Lock – arjo.lock@efectis.com