20/9/2016
Efectis in France has been accredited to perform tests to classify the fire performance of electric cables according to European methods (Euroclass), since 2014 and decided to extend its activity to the construction product reaction to fire.
In 2015, thanks to the means for SP in Norway, the means, and mainly the SBI, was implemented in the new laboratory of Les Avenières (isere). A highly experienced expert has been hired to launch the operation.
The Euroclass system (excluding floor coverings) comprises seven classifications (A1, A2, B, C, D, E and F) and three additional classifications for smoke production (s1, s2 and s3) and for burning droplets and particles (d0, d1 and d2). These are obtained with the following tests:
Ignitability test (NF EN ISO 11925-2), to evaluate the ignitability of a product exposed to a small flame.
SBI (Single Burning Item) test (NF EN 13823+A1), which allows classifications D, C, B and A2 to be determined in accordance with the following performance criteria: heat production, smoke production, lateral propagation of the flame front, formation of burning droplets and particles.
Non-combustibility furnace (NF EN ISO 1182), to identify products that contribute little or nothing to the fire, allowing classifications A2 and A1 to be determined on the basis of the parameters linked to temperature rise, mass loss and duration of flaming.
Bomb calorimeter (NF EN ISO 1716), which allows classifications A2 and A1 to be determined on the basis of the gross calorific value (GCV) per unit weight or per square metre weight or per square metre.
The bomb calorimeter was already available because it had been used for the cable classification tests. The accreditation has been obtained from COFRAC in April 2016.
In addition, a conditioning chamber has been installed so that samples can be stocked under the required conditions, and procedures for each test method have been prepared and staff have been trained.
Efectis is notified for CE marking, thus Efectis france is available to offer all the range of reaction to fire services, in addition to the historical fire resistance assessment.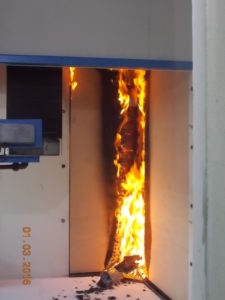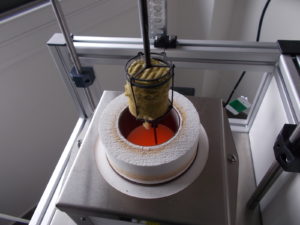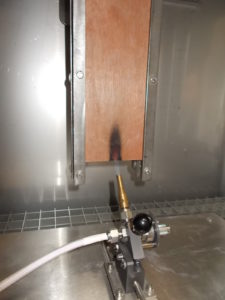 SBI test Non-combustibility furnace Ignitability test
Contact: Charlotte Siemoneit [charlotte.siemoneit@efectis.com] / Damien Flammier [damien.flammier@efectis.com]