13/12/2016
The city of Bayonne (France) is currently in the process of restoring dilapidated buildings in the old city centre. One of the main objectives is to improve the safety of the occupants in the event of a fire. As announced by the French Federation of Firefighters (FNSPF) during the national congress of Firefighters, the fire department of Pyrenees Atlantiques (64) has the task of creating certification for fire safety in old residential buildings, to be extended at national scale. Efectis is supporting FNSPF for this new development.
Series of on-site smoke exhaust and fire extinguishing tests in the stairwell of a building awaiting total renovation were carried out in Bayonne on 29 September 2016.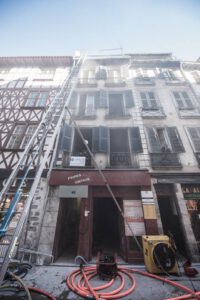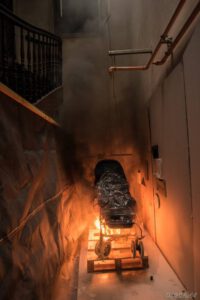 Efectis Outlabs Ventilation was responsible for the experimental fires and metrology in these tests. This test programme will provide greater knowledge about smoke propagation in old buildings and will make it possible to evaluate the necessary safety facilities and equipment.
Contact: Gildas Auguin – [gildas.auguin@efectis.com]