27/6/2017
In May, Efectis successfully tested the extinguishing qualities of FFF (Fluor Free Foam) according to Annex H of EN 1568-3:2008. The fire tests were carried out indoors at a partner facility under controlled climatological conditions with equipment of Efectis Nederland.
The tests were witnessed by Bureau Veritas for possible future certification.
With an ongoing discussion about the pros and cons of FFF and its field of application with relation to the environment, many more developments are expected. The Landelijk Expertisecentrum (LEC) BrandweerBRZO in the Netherlands has commissioned a preliminary investigation of alternatives to FFF. As well as the extinguishing capabilities the following criteria are to be rated:
Availability
Application
Environmental footprint
Durability
Distribution
Price
The recently tested foam meets the criteria of the Singapore Green Labelling scheme.
The question is whether the industry will be able to produce a similar quality of extinguishing with an eco-friendly product. Efectis had both the equipment and expertise to assess the development process by offering adapted test conditions.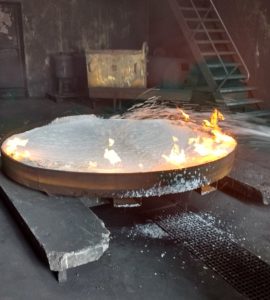 Contact: Micha de Jong – micha.dejong@efectis.com